Akademie von Nicole Horst-Rippl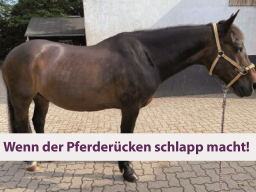 Wenn der Pferderücken schlappmacht!
In Tiere > Tiertraining
Video price:

29.00 € incl. VAT

Video duration:

1 hour and 15 minutes

Language:

German
A recording of this webinar is available.
In diesem Seminar wird erläutert was passiert, wenn die Rumpfmuskulatur beeinträchtig wird. Sei es durch schlechte Haltung, Reiterei oder Krankheit.
Es werden folgende Fragen beantwortet:
- Wie kann es dazu kommen?
- Welche einzelnen Muskelgruppen spielen eine Rolle?
-Wie erkenne ich eine schlechte Rumpfmuskulatur?
- Wie kann ich dessen vorbeugen bzw. diese wieder aufbauen?