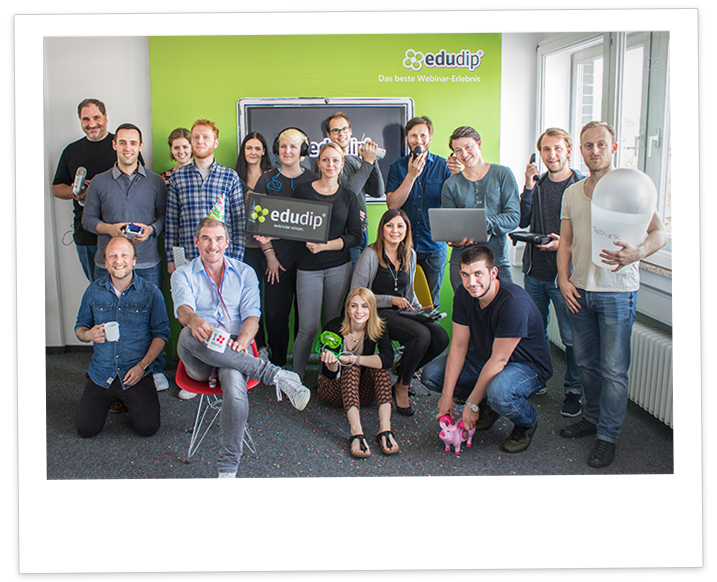 Our company culture
Our mission
edudip offers consumers and businesses the best webinar-experience.
Our vision
One day, companies and consumers invest more money in online seminars than in traditional training. Participants and speakers will prefer the platform with the greatest experience factor. Edudip will be this platform.
In short: edudip will sustainably change the (digital) training and continuing education market.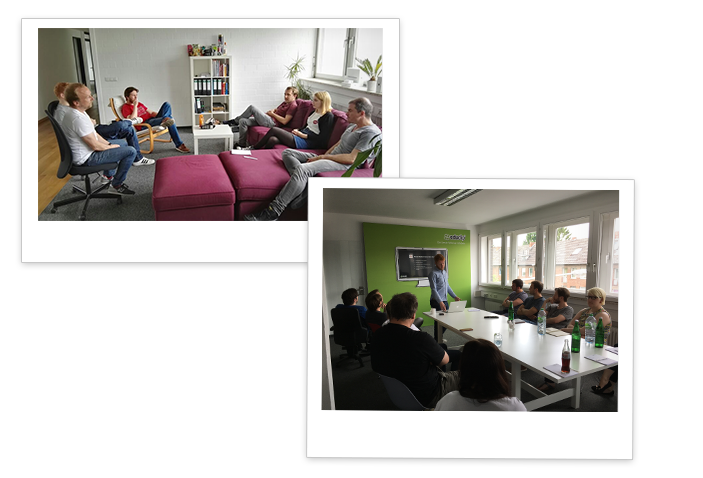 Our culture
Our corporate culture expresses our values ​​and serves as a guideline for a correct, integrated attitude towards colleagues, customers and business partners. It makes us unique. Our competition may be copying parts of edudip, e.g. the view of our marketplace or the webinarroom, but what can not be copied are our team members, our culture and our unwavering will for permanent change and development.
Our values
Our values ​​help us focus on our mission to provide user with the best webinar-experience. They encompass the basic principles that guide our thinking and action. We stand for these values, they shape us and connect us as a whole team.
Integrity

Personal integrity is the consistency of personal values ​​with one's own actions and also with the preceding thinking. Counts to it not to pretend (before itself and before other) or to play something else.

Integrity means doing the right thing, even when nobody is watching. Integrity is the courage to make the right decisions and to accept the consequences. It is the basis of trust and gives others the certainty that one is reliable and in the reverse that others can rely on one.

Honesty (+WOW-effect)

Create open and honest relations by communication

It is the base of a common cooperation. Without honesty, no trust can be built up or be held. Under it we also understand the honesty of ourselves, to admit our own problems, mistakes and deficits and work on it.

codex:

Our strength is our personality. Therefore, we want to strengthen relationships with colleagues, customers and business partners by opposing them

by being open and honest
uprightly and responsibly acting
not only fulfil their expectations, but surpass them (WOW-effect)

We always try to clear circumstances (todos, problems, annoyance, fury etc. ) with the affected people immediately and directly.
In case of extensive and/or explanatory facts we prefer the personal conversation of an e-mail or a skype message.

Ask yourself:

How would others like to work with you?
How can I improve existing relationships?
How can I make my communication more open and honest?
How can I create new relationships?
Am I free from prejudice against others? Do I directly address them?

loyalty

Create a positive Teamplay: One for all, all for one

Loyalty means to share and represent the values ​​(and ideology) of the other in the interest of a common higher aim, even if they are not fully shared as long as this serves the preservation of the shared higher aim. Briefly loyalty describes a faithful and legal behavior of a person or a group of people of an assigned or attendant instance. (esteem)

A person is loyal when he pays unreserved respect to a (usually higher) instance, another person or group or protects and defends them externally. While the own values must not necessarily agree completely with the values ​​of this other instance, person or group.

codex:

We cultivate a respectful, fair contact and treat colleagues, customers and partners just as we would like to be treated!
We do not endorse and tolerate gossip.
Identify changes in the work climate or working surroundings and encourage colleagues to discuss appropriate concerns with you

Ask yourself:

How do I promote Teamwork?
Do I promote Teamplay beyond my team?
How do I encourage others to take more initiative and responsibility?

Trust

"Distrust is a sign of weakness." Mahatma Gandhi

Trust is the belief that one can rely on someone (or on himself = self-confidence) or on something. Furthermore trust is the confidence in a relatively certain or foreseen reliability, ability and/or virtuousness.

Trust is seen as an advance on the above expectations, which is usually influenced in its scale by previous experiences.

codex:

Every new team colleague will receive the most trust and confidence from us and may develop in peace
We trust in ourselves and our team colleagues

Alarms for lacking/missing trust:

"He is supposed to do something first and prove himself before he can say something here"

responsibility

A specific task, a certain position is bound by obligations to ensure that - within a certain framework - everything is as good as possible, the necessary and correct action is taken and, if possible, no damage occurs. But also the obligation to stand for something happening and to be responsible.

Alarm signals in case of lack of responsibility

"I'm not responsible for this, so someone else can take care of it"
"I can not (do not want to) help you!"
Please also pay attention to alarm signals, which occur with too much responsibility, so of an excessive demand. If a team member has too many areas of responsibility, this runs the risk in the medium term or in the long term to overwork.

freedom

Freedom is a state in which an individual can decide self-determined and without any external and internal compulsion between several options and alternatives. It is the basis for creativity and the trust advance for loyalty.

Edudip gives everyone maximum freedom with regard to working hours, holidays, opinions and opportunities for further development.

Passion and creativity

"Without passion there is no geniality." Theodor Mommsen

A state of extreme and strong emotional affection towards a thing or a person, where we want to devote ourselves exclusively to the passion of a thing. Passion is the basic condition for creativity and satisfaction as we can do what we love.

codex:

Be creative, risky and openminded (unbiased)

Ask yourself:

Am I afraid to make mistakes?
Is my work creative?
What creative work can I contribute?
Do I have an open-minded approach to tasks and challenges?

With Kaizen to the goal #bethebestyou

Be open to change

he term Kaizen comes from the Japanese and consists of Kai = Change, Change and Zen = for the better. This means the permanent improvement of activities, expiries, procedures or products by all employees of a company.

KAIZEN helps us to fulfill our mission.

In order for edudip to always guarantee "the best webinar-experience", the different areas (circles) at edudip have to improve continuously (KAIZEN). This means in particular:

The easy handling, both for speakers and participants, is the most important priority and is continuously optimized [product]
We always place on topical, most modern technologies and develop carefully to avoid mistake as well as failures [development]
We offer a convenient and secure payment processing [Development, Accounting] to participants
We continuously optimise the consultation and education of our online-trainers [Trainer-management, Support]
We are constantly working to provide our customers, speak online-trainers, participants and companies with the best support [Support]
The best marketing of webinars [marketing]
The best advice for new customers [sales]

We achieve this improvement by constantly scrutinizing existing activities, procedures, processes or products AND by specific continuing education measures.

As a continuing education and training company we promote and demand personal and professional growth. In this way, we want to prevent team members from dwelling at the same level for years, instead of replacing them later - as usual in other companies - with new, more experienced staff.

We rely on a long-term teamplay and support each individual in personal and professional development. For this we offer the possibility to participate in seminars, courses, workshops or to buy books. This theme will be further elaborated in the coming months.

Alarm signals for a lacking one / lack of readiness for further development:

"We have always done this, a change is unnecessary"

Sustainability and importance

There is no shortcut to sustainable success. We know that we must go all extra miles for our common long-term goal. In all decisions we consider whether they are mainly consistent with our values ​​and our goal over the long term.

fun

Everyone should have fun, even customers and business partners.

Ask yourself:

How much fun do I have at my job and what can I do to make myself more fun?
What can I do to help my colleagues have more fun at work?
What can we do to be a bit more crazy and different from others?