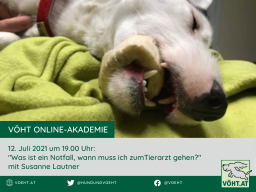 Was ist ein Notfall, wann muss ich zum Tierarzt gehen?
In Tiere > Tierhaltung
Video price:

35.00 €

Video duration:

1 hour and 30 minutes

Language:

German
A recording of this webinar is available.
Hunde sind Familienmitglieder. Man macht sich Sorgen, wenn der Hund krank ist.


INHALT:

Wann muss ich gleich zum Tierarzt, wann habe ich noch Zeit, was kann ich inzwischen tun? Die Vortragende gibt einen Überblick über die möglichen auftretenden Notfälle und gibt Hilfestellung, wann man gleich zum Tierarzt muss und wann man noch etwas warten kann.


BEGINN: 19:00
ENDE: ca. 20:30

Sie haben während des Webinars die Möglichkeit, der Referentin per Chat Fragen zu stellen. Weitere offen gebliebene Fragen können im Anschluss an den Vortrag beantwortet werden.


VORTRAGENDE:

Dr. Susanne Lautner (Tierärztin, tierschutzqualifizierte Hundertrainerin)
www.tierarztpraxis-lautner.at

Dr Susanne Lautner betreibt seit 1993 eine Tierarztpraxis in Wien-Hietzing. Sie war einer der ersten Tierärzte die 24h telefonisch erreichbar waren und Notdienst ( in ihrer Praxis oder bei Hausbesuchen) anbot. Seit 2009 betreibt sie eine Hundeschule und eine verhaltenstherapeutische Praxis. Sie ist tierschutzqualifizierte Hundetrainerin, vertritt Österreich in der internationalen Hundetrainervereinigung Pet Dog Trainers of Europe, wo sie auch einige Jahre im Vorstand war.