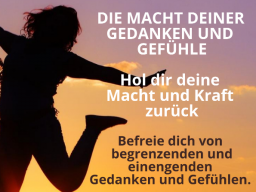 Transformationsworkshop - Hol dir deine Kraft und Freude zurück.
In Personality > Self-management
Price:

199.00 € incl. VAT

Number of participants:

maximum 4

Application deadline:

6 hours before the start

Language:

German
TransformationsWorkshop

Mit Early Bird Rabatt bei Buchung bis 07.03.2021 mit 40 % Rabatt.
Rabattcode unter https://www.lebensfreude-akademie.com/angebote/aktuell

DIE MACHT DEINER GEDANKEN UND GEFÜHLE auf dein Leben:

Hol dir deine Macht, Kraft und Freude zurück.
Befreie dich von dich begrenzenden und einengenden Gedanken und Gefühlen.

Beherrschst du deine Gedanken und Gefühle oder beherrschen deine Gedanken und Gefühle dich?
Hol dir deine Macht und Kraft zurück für das, was du erleben möchtest.

Inhalte:

Standort und Ausrichtungscheck

Weswegen bist du hier?
Wie erfährst du gerade dein Leben?

Was möchtest du ändern?

Was willst du erreichen?

Die 4 Ebenen von Überzeugungen

Einteilung Wirkung Bedeutung
Wie bestimmt jede der Ebenen unser Leben.


1. Ebene: Angst erzeugend lähmend
2. Ebene: Resignation und Unsicherheit
3. Ebene: Rechthaben
4. Ebene: Freiheit offen flexibel


Transformationsprozess

Die Inventur deiner Überzeugungen und Gedanken.

Die Zuordnung deiner Gedanken in die 4 Ebenen.
Verstehen der Zusammenhänge in deinem Leben.

Erforschen deiner Begrenzungen.
Lösen deiner bisherigen Begrenzungen.
Raum schaffen für neues Fühlen und Erleben.

Transformationsabschluss:
Deine neue Wahl als freies Wesen.

Celebration und Neu-Ausrichtung auf dein Leben.


_________



Termin passt nicht. Oder du wünscht dir einen Einzeltermin. Schreibe oder rufe uns einfach an. Wir finden immer eine Lösung.