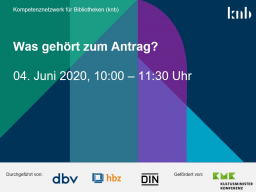 Was gehört zum Antrag?
Video price:

for free

Video duration:

1 hour and 8 minutes

Language:

German
A recording of this webinar is available.
In diesem Webinar erhalten die Teilnehmenden einen Überblick darüber, was alles zu einem Antrag gehört: das Antragsformular, ein Kosten- und Finanzierungsplan, Kurzbeschreibung des Projekts, Selbstdarstellung des Antragstellers, Zeitplan sowie mögliche Anlagen (Satzung, Mandate, Portfolio/Dokumentation). Nach dem Webinar sind die Teilnehmenden in der Lage, die Antragstellung professionell vorzubereiten und ggf. Vorlagen von wiederkehrenden Dokumenten zu erstellen.
Das Webinar wird von Laura Seifert (EU- und Drittmittelreferentin des dbv) geleitet, unterstützt von Juliane Brandt (Total Digital!).