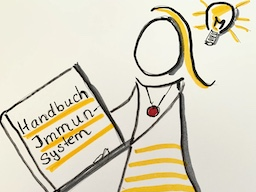 "Immunsystem an Gehirn", ich brauche dringend ....
In Health, Medicine > Nutrition
Video price:

for free

Video duration:

1 hour and 3 minutes

Language:

German
A recording of this webinar is available.
du fährst auf der Autobahn und plötzlich geht eine rot blinkende Warnleuchte an die du nicht kennst. Was machst du? Fährst du einfach weiter nach dem Motto wird schon nichts Wichtiges sein" oder hälst du an und schaust in deinem Handbuch nach?

Wenn dein Immunsystem ein Handbuch hätte, weißt du was drin steht?

Welche Stoffe vorhanden sein müssen für den täglichen Betrieb und was in plötzlich auftretenden Notfällen oder Allergien ganz schnell nachgefüllt werden muss?

In diesem Webinar erklären dir zwei Expertinnen für Ernährung, Stressbewältigung und Hautprobleme auf unterhaltsame Weise was im Handbuch deines Immunsystems steht.

Du kennst sicherlich Vitamin C, aber was ist denn L-Glutamin?
Was braucht dein Gehirn um gut drauf zusein?

Wieviel Eiweiß brauchst du jeden Tag und wie kannst du besser schlafen?

Nimm dir ca. 60 Minuten Zeit und entdecke wie du dich gut schützten kannst, gute Laune bekommst und auch noch mehr Energie - bist du dir das wert?

Ein Chinese sagt nicht Du hast mich angesteckt, sondern ich habe die Tür aufgelassen

Bist du dabei?

Wir, Angelika Dietl, Ernährungsberaterin und Monika Bröhl-Croci, Ernährungsberaterin TCM und Kosmetikerin freuen uns auf dich.