Akademie von Svenja Thiede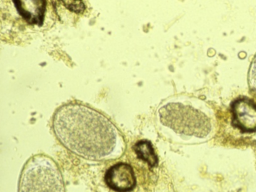 Zeitgemäße und Selektive Entwurmung beim Pferd
In Tiere > Tierhaltung
Video price:

20.00 € incl. VAT

Video duration:

2 hours and 41 minutes

Language:

German
A recording of this webinar is available.
Die Weidesaison steht vor der Tür und wir müssen uns mit dem Parasitenmanagement der Pferde befassen. Die lange übliche "strategische Entwurmung" ist aus verschiedenen Gründen nicht mehr up to date. Die Zeitgemäße und Selektive Entwurmung scheint zunächst kompliziert - ist sie aber gar nicht. In diesem Webinar besprechen wir das Prinzip und die genaue Vorgehensweise - zum Wohle von Pferd und Umwelt. Die verschiedenen Endoparasiten des Pferdes werden besprochen.
Diese Veranstaltung war als Live-Seminarabend geplant, was aufgrund der aktuellen Situation durch COVID-19 nicht möglich ist. Es handelt sich deshalb um ein sehr langes Webinar - wir machen zwischendurch eine kurze Pause von wenigen Minuten.