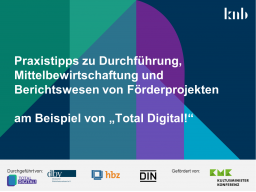 Nach der Projektbewilligung - Praxis-Tipps zur Durchführung und Abwicklung von Förderprojekten am Beispiel von "Total Digital!"
Video price:

for free

Video duration:

1 hour and 4 minutes

Language:

German
A recording of this webinar is available.
Herzlichen Glückwunsch! Die Hürde des Projektantrags wurde genommen, die Jury hat Ihr Konzept positiv bewertet, Ihre Finanzierung ist bewilligt und es kann losgehen mit dem Förderprojekt.
Bei aller berechtigten Freude und Tatkraft darf nun nicht vergessen werden, dass sich auch Pflichten aus den eingeworbenen Mitteln ergeben. Aber welche sind das genau und welche Arbeitsschritte verbergen sich hinter den bürokratisch klingenden Begriffen wirklich? Oft kommen Fragen auf wie: Mache ich das jetzt eigentlich richtig? Wann muss ich was machen?
Das Webinar möchte solchen Fragen vorgreifen und hat sich daher zum Ziel gesetzt, den Ablauf der Projektförderung und ausgewählte Fachbegriffe allgemein verständlich zu erklären. Anhand des dbv-Projekts "Total Digital! Lesen und erzählen mit digitalen Medien" soll verdeutlicht werden, wie es gelingt, den administrativen Part der Projektförderung problemlos zu bewältigen.
Es richtet sich an Bibliotheksmitarbeiter*innen und Kooperationspartner*innen, die im Rahmen von "Total Digital!" Projekte umsetzen, ist aber auch offen für weitere Interessierte, die Drittmittelprojekte umsetzen oder umsetzen wollen.
Das einführende Gespräch wird durch die Beantwortung von Fragen aus dem Chat ergänzt.