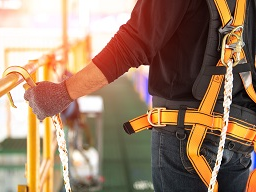 Wie erstelle ich mit der richtigen Strategie rechtssichere Gefährdungsbeurteilungen?
Price:

for free

Number of participants:

maximum 50

Minimal attendance:

15

Application deadline:

15 minutes before the start

Language:

German
Sie sind Fachkraft für Arbeitssicherheit und verstehen unter einer Gefährdungsbeurteilung mehr als das Ausfüllen von Checklisten? Sie wollen Arbeitsschutz in Ihrer Organisation mobil, systematisch und nachhaltig betreiben? In diesem Webinar zeigen wir Ihnen, wie Sie Ihr Arbeitssicherheits-Management auf die nächste Stufe heben.

Erfahren Sie mehr über folgende Punkte:

- Mit welcher Strategie kann man grundsätzlich an GBU herangehen?
- Das magische Dreieck der Gefährdungsbeurteilung!
- Vorteile von sog. mitgeltenden Gefährdungsbeurteilungen

- Mobile Erhebung der Gefährdungen
- Gefährdungs- und Belastungskatalog
- Risikobeurteilung (Risikomatrix nach Nohl)
- Maßnahmenverfolgung
- Wirksamkeitsprüfung
- Dokumentation
- Spezielle Anforderungen nach MuSchG
- Auswertungen nach Berufen und Tätigkeiten

Stellen Sie gerne Ihre Fragen!

Die Vorgehensweise wird anhand der Softwarelösung GeSi³ FaSi-Profi gezeigt.