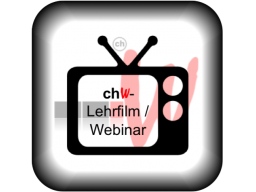 chW Skilled Employee in combined soul & body pains in veterinary patients (dogs, cats and horses) (chW SE-CP) - Kapitel 7
In Animals > Veterinary medicine
Video price:

45.00 €

Video duration:

1 hour and 48 minutes

Language:

German
A recording of this webinar is available.
chW Skilled Employee in combined soul & body pains in veterinary patients (dogs, cats and horses) (chW SE-CP) - Kapitel 7

chW Tier-Therapeutin für seelische & körperliche Schmerzen /
chW Tier-Therapeut für seelische & körperliche Schmerzen

DER neue chW-Lehrgang

Weitere Infos erhalten Sie unter info@c-hinterseher.de

Das gewünschte und gebuchte Unterrichts-, Lehr- und Studien-Material und therapeutische Anleitungen finden sich im Webinar - angebotene PDF-Dokumente sind AUSSCHLIESSLICH als Begleitmaterial und Notizhilfe zu verstehen und stellen NICHT das vollständige Angebot dar. chW will im Sinne der weltweiten Umweltbewegungen einen zukunftsweisenden Schritt voraus gehen: chW Augmented Learning versteht sich als lernpsychologisch erfolgreiches digitales und Medien-gestütztes Lernen und Erfahren - mit Verzicht auf überflüssige zusätzliche Scripten, Druckkosten und Vergleichbares mehr. Schließen Sie sich an!

Sollten Sie das PDF-Dokument dennoch beanspruchen, erhebt chW pro PDF-Dokument eine Kostenpauschale in Höhe von 13,50 € und bittet um eine kurze E-Mail an tierarzt.online@c-hinterseher.de.