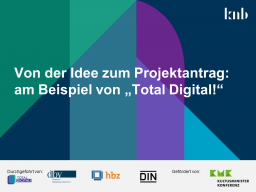 Von der Idee zum Projektantrag: Praxistipps zur Entwicklung und Beantragung von Förderprojekten am Beispiel von "Total Digital!"
Video price:

for free

Video duration:

1 hour and 24 minutes

Language:

German
A recording of this webinar is available.
Förderprojekte durchzuführen kann viel bringen: die Erprobung von neuen Ideen und Aufgabenfeldern, mehr Sichtbarkeit und Anerkennung oder neue Kompetenzen. Doch wie erarbeitet man Projektanträge - besonders angesichts knapper zeitlicher Ressourcen?
Im Webinar wird am Beispiel des dbv-Projekts "Total Digital!" gezeigt, wie man optimal vorgeht und vorhandene Beratungsangebote nutzt. Wir möchten Sie durch den Antragsprozess des Projekts begleiten, wobei Fragen zur Entwicklung der Idee genauso dazu gehören wie konkrete Hinweise zur Auslegung von Richtlinien und ein Blick auf die Datenbank für die Projektanträge. Das Webinar hat sich zum Ziel gesetzt, anhand einiger Beispiele in einer Stunde wesentliche Grundzüge der Entwicklung von Projekten im Rahmen von Total Digital! zu vermitteln und die Antragsstellung so zu erklären, dass hinterher direkt gestartet werden kann!
Das Webinar ist für alle konzipiert, die sich für Total Digital! interessieren, egal ob sie schon fest planen einen Antrag zu stellen oder sich erstmal informieren möchten. Es werden auch ganz allgemeine Tipps und Tricks zur Entwicklung und Beantragung von Förderprojekten zur Sprache kommen, daher ist es auch für einen allgemeinen Einstieg in das Thema Förderung geeignet.