Willi Bayer fly-higher spirit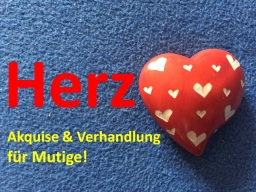 Herz Akquise & Verhandlung für Mutige!
In Personality > Anxiety and Stress Management
Price:

99.90 € incl. VAT

Number of participants:

maximum 5

Application deadline:

7 days before the start

Language:

German
Saturday, 8th Oct 2022, 08:00 pm - 08:45 pm
(GMT +02:00)
Registration deadline expired
Herz Akquise & Verhandlung für Mutige!

Zu einer synergetischen "win + win" Erfolgs-Beziehung gehören nicht nur zwei Menschen, die sich auf emotionaler Ebene oder auf Basis ihrer Problemlösung gut verstehen. Man muss auch gewisse Eigenschaften mitbringen, die eine gelungene Erfolgs-Partnerschaft überhaupt erst ermöglichen.

Der Volksmund sagt: " Wenn die Chemie nicht stimmt, kannst Du alles vergessen!"

Je bewusster wir auf unsere Herz-Energie hören und ihr folgen, desto angstfreier, gelassener und intuitiver gelingen uns außergewöhnliche partnerschaftliche Leistungen bei der Akquise und in kritischen Verhandlungen.

Hoffnungslose oder verzweifelte Ausgangssituationen sind kein Grund, den Kopf in den Sand zu stecken.

Akquise & Verhandlungen werden dann zum wertschätzenden Miteinander und führen in den meisten Fällen zu innovativen, nachhaltigen Erfolgserlebnissen, die über Jahre eine Bereicherung bedeuten.

Alle Beteiligten erinnern sich gerne immer wieder daran, wie aus großen Schwierigkeiten oder Problemen "win+win" Folgewirkungen entstanden sind.