The empowering people. Network Academy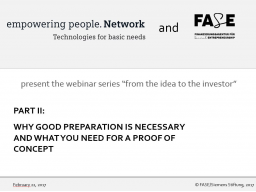 Why good preparation is necessary and what you need for a proof of concept
In Management > Entrepreneurship
Video price:

for free

Video duration:

1 hour and 26 minutes

Language:

English
A recording of this webinar is available.
This webinar will focus on two main aspect:
Why a proof of concept is important and how you plan it.
We will start with a brief overview of the main arguments why you should actually spend time on conducting a proof of concept before diving into details on what it needs to contain and how you set it up. The last 15 min. of the session will be open to Q&A.

This webinar is part of a series of 4 webinars presented by the empowering people. Network of Siemens Stiftung (Foundation) and FASE, the Financing Agency for Social Entrepreneurship.
The offered content will follow the journey of a typical social enterprise, starting with an initial business set-up, business plan writing, forms of financing and ending with guidance on how to approach investors.