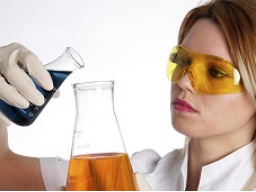 Wie erstelle ich automatisiert ein REACH-konformes mehrsprachiges Sicherheitsdatenblatt?
Price:

for free

Number of participants:

maximum 50

Minimal attendance:

6

Application deadline:

15 minutes before the start

Language:

German
Sie sind Hersteller oder Formulierer von chemischen Produkten (Gemischen) und möchten Ihre Sicherheitsdatenblätter automatisiert REACH-konform und mehrsprachig erstellen? In diesem Webinar erfahren Sie unter anderem, welche Rezeptur-Daten Sie dafür benötigen, wie Sie komfortabel mehrsprachig mit dem Europäischen Phrasenkatalog arbeiten und wie Sie beim Umgang mit Vormischungen zukünftig Zeit und Geld sparen können.

Wir behandeln mithilfe der Software GeSi³ SDB-Profi folgende Fragen:

- Wie sieht ein smarter Workflow zur Erzeugung eines Sicherheitsdatenblatts aus?
- Welche Rezeptur-Daten sind für die Sicherheitsdatenblatt-Erstellung notwendig?
- Wie können Sie den Europäischen Phrasenkatalog eSDSphrac (vormals EuPhraC) bequem nutzen?
- Wie gehen Sie mit individuellen Phrasen um?
- Wie behandeln Sie länderbezogene Grenzwerte?
- Wie erzeugen Sie Gefahrstoff-Etiketten und Produktmitteilungen (PCN) auf Knopfdruck?
- Welche Vorteile bietet eine professionelle Softwarelösung im Vergleich zu Word und Excel?
- Wie gelingt Ihnen der Umstieg von herkömmlichen Tools sicher und problemlos?

Sie erfahren außerdem, was sich beim Sicherheitsdatenblatt ab 2023 ändert.

Stellen Sie währenddessen gerne Fragen und profitieren Sie von den Fragen der anderen Teilnehmer.