Akademie Heinz Bader -Verkauf, Bewerbung, Etikette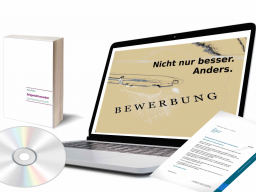 Die perfekte BeWERBUNG - Turbo zum Erfolg - Wie denn?
In Occupation, Career > Carreer
Price:

for free

Number of participants:

maximum 20

Minimal attendance:

10

Application deadline:

2 hours before the start

Video price:

3.00 € incl. VAT

Language:

German
A recording of this webinar is available.
Coole Infos und Tipps für alle die weniger Absagen wollen.
- für Anschreiben die "sitzen"
- für intressanten Lebenslauf
- für mehr Einladungen zum Vorstellungsgespräch

Bewerbung ist Werbung,
für Ihren Traumjob,

und ist heute Zukunftssicherung eines jeden Arbeitssuchenden, und darf keinesfalls dem Zufall überlassen werden.

Professionell und überzeugend bewerben - darüber reden wir hier und davon profitieren Sie.