About us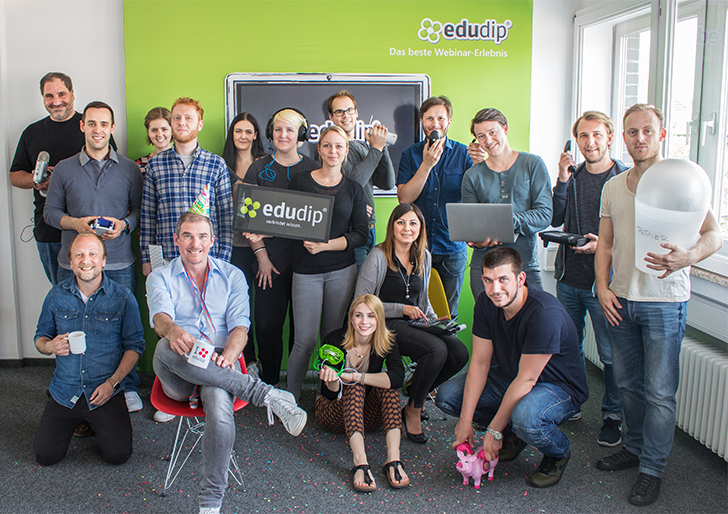 The idea
In early January 2010 Torsten Kämper had a brilliant idea: to bring trainers and those eager to learn together on a web-based platform and support the virtual exchange of knowledge - that's the approach. This idea initiated the formation of the edudip GmbH in Aachen.
After some research and input from many trainers and teachers, we discovered that the planning and implementation of webinars has been very complicated and expensive. We wanted to do things differently: namely simple.
Awards
Winner of the Comenius award 2011
Nominated for the digita 2012
Funded by the Ministry of Innovation, Science, Research and Technology of North Rhine-Westphalia
Our path to this day
2017
March 2017
Release of the edudip-App
The edudip-App allows a simple and flexible webinar participation via mobile phone or tablet from any location.
January 2017
edudip at the LEARNTEC
Edudip has spent three exciting days at the trade fair for digital education in Karlsruhe. The feedback from countless trade fair visitors made it clear: edudip convinces with its immensely simple usability and excels both with the fulfillment of the German data protection, as well as with its complete solution. video: edudip at the LEARNTEC
2016
25.000
registered online trainers
November 2016
New payment option
From now on online trainers have the possibility to activate the payment by installments as a payment method for their webinars and thus allow the participants to pay in installments.
April 2016
New webinar room
The previous webinar room has been revised both visually as well as technically and comes along now with a modern design, revised icons and graphics and newly arranged, clearly structured and refurbished features.
2015
18.000
registered online trainers
1 Mio.
event
registrations
October 2015
New server infrastructure
Responding to the rapid growth of participants in recent years, the entire platform and server structure was adapted and expanded in order to continue to guarantee a stable connection and optimal transmission of webinars even at peak times.

February 2015
New pricing model
The current pricing model was simplified so that there are only three premium packages on edudip and Sofengo: Free, Basic and Pro. The maximum number of participants per webinar was raised to 1000 in the Pro package.
August 2015
The Webinar Success Coach
To accompany online trainers on their way to success, edudip has designed and developed the Webinar Success Coach. From idea generation and commercialization through to implementation, the 15-week program helps beginners as well as experienced online trainers to profitably position themselves and their webinars.
Get started for free
2014
1.600
Premium and business
customers
600.000
event
registrations
1,5 Mio.
Page impressions per month
December 2014
Moving to a new office
The edudip GmbH has continued to enhance itself during the year, so the move to a new, larger office offers more space for creative work and even our own room for holding webinars.
February 2014
Relaunch & introduction of edudip business
The platform has been completely revised and functions were expanded and optimised to make edudip even more intuitive to use. In addition, the new business solution was introduced, with which a new and even more comfortable offer for companies was created.
September 2014
Launch of Sofengo
Due to the growing offer of webinars in the field of spirituality, a separate platform for these topics was created to extend the edudip Marketplace. Since then all webinars on the topic spirituality can be found on www.sofengo.de.

2013
1.000
Premium and business
customers
348.293
event
registrations
40.000
Webinars with well over 1 million participants
1 Mio.
Page impressions per month
Autumn 2013
Expansion of the edudip platform for more redundancy and performance
To be able to withstand the increasing demands of participants and online trainers, the platform has been optimised and the efficiency has been increased.
March 2013
New packages
The new packages basic, plus and pro were introduced to respond better to needs of our users.
August 2013
Launch of the new Marketplace
In order to present the ever-growing webinar offers in an attractive and clear way, the new edudip Marketplace was introduced.

2012
430
Premium and business
customers
130.689
event
registrations
589k
Page impressions per month
December 2012
Launch of the new virtual classroom
By the release of our new virtual classroom, it got a new look and new functions were available for online trainers and participants.

January 2012
Nomination for the digita 2012
edudip was nominated for the award of quality for digital educational media, the digita.
March 2012
Relaunch with a new design and new features
In March 2012, edudip was presented in a new design and the usability of the platform was easier and more comfortable because of new functions.
Watch the video
2011
150
Premium and business
customers
11.544
event
registrations
40k
Page impressions per month
November 2011
Funded by the Ministry of Innovation, Research and Technology
The Ministry of Innovation, Research and Technology of North Rhine-Westphalia furthered us and we welcomed our assistant for innovation Bodo!
February 2011
Learntec Karlsruhe
The LearnTec was our first fair. We had three days to show and explain to many visitors and prospectives what we offer.

June 2011
Awarded the Comenius EduMedia seal
The edudip GmbH received the Comenius EduMedia seal in Berlin on June 24th, 2011. The awarded seal is a honor of the society for Pedagogy and Information Association (GPI) and has been awarded since 1995 for didactic multimeda products or eurocultural education media.
Read the press release
2010
October 2010
Launch of the edudip platform
After the first version of the platform had been concepted and developped, it could go online for the first time in October 2010.
Read article
February 2010
GmbH Foundation
The edudip GmbH is launched. From then, the idea to create a webbased platform which unites trainers and inquisitives, was turned into reality.